Starting a Classroom Economy
My
classroom economy is one of the most important components of my classroom. It is connected to my behavior system,
homework, and classroom procedures. It
also teaches my students many economic concepts throughout the year.
Economics:
Incentives, budget, cost, supply, demand, banking, wants, saving,
spending, savings goal, banking, income, specialist/human resource, decision
making, choice, opportunity cost
Click here
to view my Economics Word Wall Words (Freebie for the Week)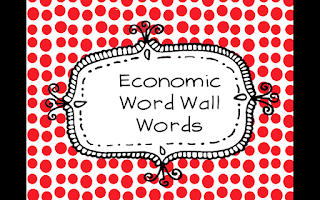 What
currency should you use?
My entire
school uses the same currency. Our
mascot is the Stars, so we have "Star Bucks."
If your school doesn't have a school wide currency then your students
can help in designing it. It's easier to
have different amounts of money. We have
a $1, $5, $10 and $20.
A fun way to
introduce different currencies is to look at money from around the world. I have a collection of different coins and
paper money. My students love looking at
the different symbols and pictures on it and comparing it to our currency. You can also integrate a geography lesson by
having students locate where the country is located on the map that the money
came from.
Integrating lessons are great ways
to teach more skills in a meaningful way!! Students see the relevance of the
concept when it's integrated into a lesson!
How
do I decide what to pay my students for?
This is
entirely up to you. You can pay students
for doing their class jobs. Class jobs
are a great way to create a community in your classroom. Students take ownership and it becomes their
classroom!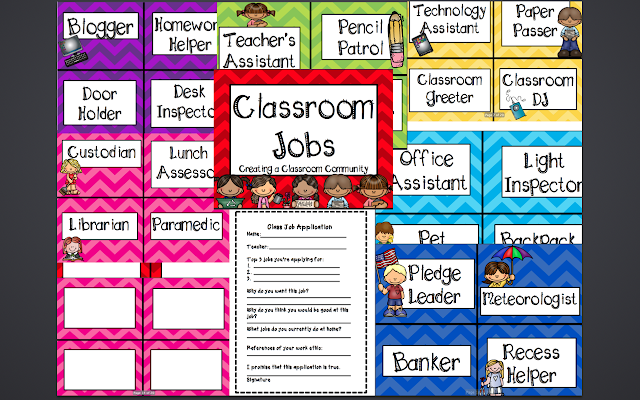 I also pay
for getting agenda's signed, homework returned, and 100% on tests. I also will pay when I catch someone doing
what's right.
Life
Lesson: Work
Hard!
My students
never know when they might get a bonus for going above and beyond.
Do
you fine or Debit your students?
Yes, if my
students forget their homework or are not following directions they pay
me. I have a list of classroom fines. This helps my students know my expectations
for their behavior and work ethic.
Banking
System
Once students
start acquiring your class currency, they will start to see a need for a class
banking system. Students will start
losing their money or other students will start finding money. This teaches students what the need is for a
banking system. I use this wonderful
website that is free for teachers.
http://www.mykidsbank.org
At first I'm
the banker, then I train a student to take over the job. After students start putting their money in
the bank they will then discover a need to pull money out of the bank whenever
it's not open for business. I get check
registers from a local bank every year, to teach my students how to record and
balance their checkbooks.
Life
Lesson:
I love
teaching my students that just because you have a checkbook doesn't necessarily
mean you have money it in! I
want my students to understand what they are asking when they say to their
parents, "Just write a check for it!"
I have
created Debit Cards that can be used in our class. Students take out $25 in a debit card and
then I can punch the currency as they spend it.
This helps when students want to rent recess equipment and I don't have
time to log on and take it out of their bank accounts.
What
can students buy with their school currency?
My students
can rent recess equipment, buy items from the class store, and purchase items
at the class auctions. I'm working on
having a once a month incentive day where students can purchase special events
like playing a kickball game against teachers or a lemonade day where students
can purchase lemonade at recess. In the
early grades students pay their "STAR BUCKS" for things like read to the class,
work with your shoes off (STINKY Feet), eat lunch with a friend, or swap seats
for a day. IIt depends on what your kids
like. Fifth graders won't usually pay to
read a book to the class!
A classroom economy is a great way to start teaching your students important real world concepts. These lessons will prepare your students to be productive global citizens that can budget their money!
Please continue to Hop to the next Blog!!!
Click Here
to continue the Blog Hop!