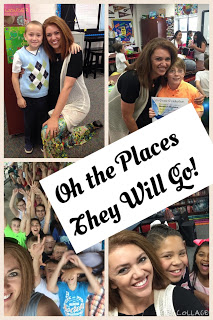 The
last day of school is always bittersweet.
SUMMER is HERE! Vacation; time to SLEEP IN and to do all the home projects
that have been put off all year! Time to
spend with family and friends ~but also to REFLECT and PLAN for the next school
year!!
As
a teacher, I always have a feeling of~ I WISH I could have done more! I'm not
finished with my (school) kiddos yet. I never feel like the year is complete. We still have books to read and projects to
do. This year marks the end of my 18th year! (Wow! That makes me sound old!) Every year I have the same feeling~ the heart
tug of missing my kiddos! And letting
them go on to the next grade.
Today
after reading Oh the Places You Will Go by Dr. Seuss, and looking into
my students' bright eyes, I believe their opportunities are ENDLESS! Oh the
places they will go!! I can't even imagine some of the jobs my students' will
have because they haven't even been invented yet! Oh the Places they will go~ And I got to be
part of that journey!! I feel so blessed! That makes all the difference!